The Most Spectacularly Lamentable Trial of Miz Martha Washington - ePublication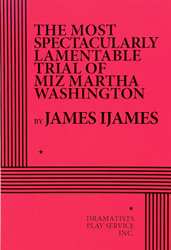 THE STORY: The recently widowed "Mother of America" lies helpless in her Mount Vernon bed, ravaged by illness and cared for by the very slaves that will be free the moment she dies. As she begins to slip away, she falls deep into a fever dream of terrifying theatricality that investigates everything from her family to her historical legacy.
"Ijames has crafted a superbly written, emotionally compelling, and morally challenging play…We are never made comfortable in the world of this play, which looks dead-on at America's original sin. It challenges by chasing down the guilt of all involved, even the most hallowed and revered of founders. This exceptional new work will have legs to run on for as long as America exists." —Philadelphia Inquirer.

"…an extraordinary dark comedy about slavery in America… [a] theatrical discovery of the best kind—a terrific script not to be missed…" —DC Metro Theater Arts.

"…[A] bold and theatrically bright new play…Ijames lets his imagination loose with MIZ MARTHA. The result is a skewered history that, like satire through the ages, has the ring of truth…" —News Works.