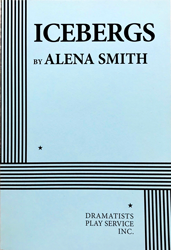 THE STORY: Los Angeles, California, where the weather is always nice, and the future looks bright…at least on the surface. Welcome to Silver Lake on a warm November night, where a new generation of thirtysomethings navigate filmmaking and family planning, trying to put down roots before everything melts away.
"…[Smith] sends up Angelenos with spot-on cultural references and sly but affectionate insight…the characters' rapports convey the richness and surprise of real-life interactions while deepening the play's themes…ICEBERGS is aptly named: There's a lot going on under its sparkling surface." —Los Angeles Times.

"[ICEBERGS] offers plenty of laughs with witty dialogue…Smith...shows impeccable comic timing, and also knows how to layer her drama with pathos." —Variety.

"…timely and touching, humorous and human…Simply put, ICEBERGS is contemporary American theater at its best." —Stage Scene LA.

"Smith manages the impressive feat of integrating TV-style situation comedy, often riotous, with weighty themes of love, career, life, death, and the acceptance of loss…ICEBERGS is a fine-grained photograph of a slice of Southern California life…" —Santa Barbara Independent.