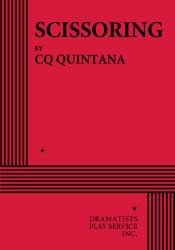 THE STORY: When Abigail Bauer takes a job as a teacher at a conservative Catholic school, she is forced to step back into the closet against the wishes of her long-term girlfriend. As she struggles to reconcile her professional ambitions, personal relationships, religious beliefs, and internalized shame, Abigail receives guidance from First Lady Eleanor Roosevelt and Eleanor's devoted friend and lover, Lorena Hickok. Through it all, Abigail must find the courage to be unabashedly herself.
"Quintana's crisp, humorous writing is effervescent and lively… SCISSORING is…perfect LGBTQ+ themed theater…for all time and all audiences, as it drives home the harm and anguish that's born out of discrimination… It's a message that should be heard especially now, especially always." —Theater Pizzazz.

"…SCISSORING is an excellent and thought-provoking piece sure to inspire both a laugh and a tear." —Theasy.

"…Quintana creates a complex protagonist who is sympathetic, exasperating and engaging… SCISSORING stands as an accomplished work of theater." —Theater Scene.