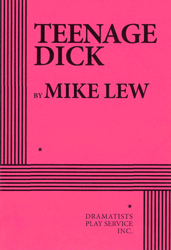 THE STORY: In this brilliant retelling of Shakespeare's Richard III, one of the most famous disabled characters in history is reimagined as a 16-year-old outsider taking on the political turmoil of high school. Bullied for his cerebral palsy (and his sometimes disturbing tendency to speak with a Shakespearean affect), Richard plots his revenge…as well as his glorious path to the senior class presidency. But as he falls deeper into a pattern of manipulation and greed, Richard is faced with an unexpected choice: Is it better to be feared or loved? TEENAGE DICK is a hilarious and sharp-witted adaptation about perception, disability, and the treacherous road to ascendancy.
"…moving, exciting and profoundly eye-opening…whenever [Lew] questions or complicates Shakespeare's assumptions, even if that means departing from his template, it is riveting… [TEENAGE DICK] suggests how much richer the theater will be when it is truly open to artists of all kinds. Not just because those artists deserve employment but also because the canon of classics deserves reimagining to match our world." —The New York Times.

"[Lew] has constructed—well and tightly constructed—a thoroughly engrossing and entertaining play that zips through humor and pathos, building inexorably to its climax. It echoes the Shakespearian [sic] plot without simply aping it, and it's filled with humor, Richard-referential and otherwise." —New York Stage Review.

"[TEENAGE DICK] is never boring, pretentious, preachy, or afflicted with any other of the deadly sins of bad playwriting. Instead, [the play] is genuinely entertaining and edifying…brilliantly dramatized…" —CurtainUp.