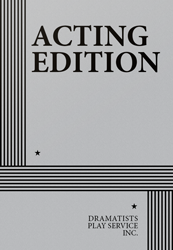 One Act, Drama
3 men
Total Cast: 3, Open Stage
ISBN-13: 9780822209300

THE STORY: In Martin Gottfried's words: "The story is about two rats. One has control over a rich hunting ground in New York City and the other has come down from Greenwich, Connecticut, looking for an in. The power rat is reluctant to let anybody into his domain but his visitor is convincing and talks his way in, until an infant child makes his appearance. Then the country rat wants his bite, the city rat is revealed as kindhearted and they fight over the screaming baby. It is a hideously powerful conclusion to a fascinating and comic play. The play's fascination, though, is more with its treatment of rats as souls. Mr. Horovitz is not simply dealing with sewer rats in the city. He is also dealing with people-rats in their conniving for position (a subject which he has artfully treated before). The play moves from very funny parallels with social status to very grisly parallels with greed. It is superb and Horovitz has quickly established himself as a playwright of smooth technique, serious intent and great imagination."
The featured work in Off-Broadway's omnibus of short plays entitled COLLISION COURSE, this highly original, often comic, and ultimately shattering play comprises a parable for our time in its portrayal of two "rats" and the "baby" attacked by one and protected by the other. "This story of the rats is rough, tough, funny and moving, and both Mr. Horovitz's considerable skill and dramatic originality are again outstanding." —NY Times. "…(a) superior play." —Women's Wear Daily. "…uncommonly interesting." —Village Voice.