The Real Thing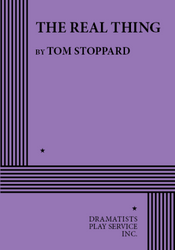 APPLY FOR RIGHTS: Click here to request a license for this play.
Winner of the 1984 Tony Award® for Best Play.
THE STORY:
Henry is a successful playwright married to Charlotte, who has the lead role in his latest play about adultery. Her co-star, Max, is married to another actress, Annie, and Annie and Henry are madly in love. As Henry navigates his personal and creative passions, the line between truth and fiction is blurred in this devastating portrait of love, performance, and the "real thing."
Also winner of the 1984 New York Critcs' Circle Award for Best Play and the Drama Desk Award for Oustanding New Play.

"THE REAL THING...is not only Mr. Stoppard's most moving play, but also the most bracing play that anyone has written about love and marriage in years…THE REAL THING is so densely and entertainingly packed with wit, ideas and feelings that one visit just won't do...any repeat viewings are likely to be as dazzling as the first." —The New York Times.

"THE REAL THING combines intelligence, emotion and wit in a multifaceted play about love...The theme of fidelity and love abounds as Stoppard dissects illusion and reality, art and life, emotion and loss, and the search for what is real…" —Berkeleyside.

"Laced with Stoppard's characteristic wit, [THE REAL THING] becomes a study in Henry's sentimental education…Stoppard is here writing, with incomparable grace and style and in a way we can all recognise, about the high cost of loving." —The Guardian (UK).