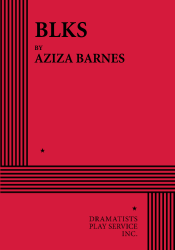 THE STORY: When shit goes down, your girls show up. Waking up to a shocking and personal health scare, Octavia and her best friends, June and Imani, go on a crusade to find intimacy and joy in a world that could give a fuck less about them or their feelings. This 24-hour blitz explores what it is to be a queer blk woman in 2015 New York, how we survive and save ourselves from ourselves.
"Aiming to be a raucous comedy of misbehavior and a quiet tragedy of mistreatment, [BLKS] amazingly succeeds at both…For quite a stretch of the breakneck 90-minute production, you feel the pure joy of seeing the best of people at their worst…the uncomfortable proximity of terror and pleasure, the mark of mortality in the midst of intimacy, percolates beneath the surface at all times, so that even at its most extreme and obscene—BLKS is not for prudish ears or eyes—it is serious and sad and profoundly human." —The New York Times.

"Unvarnished and totally uninhibited, [BLKS] is hilarious in the most uncomfortable ways. It's the kind of comedy you watch with one hand covering your eyes, and the other suspending your dropped jaw…Barnes's lack of fear as a writer is what makes BLKS a particularly joyous experience…Each of Barnes's characters is a mess in his or her own special way, and it is in their flaws that we are best able to see reflections of ourselves—and laugh-cringe at the mirror's harsh truth." —TheaterMania.

"…[a] disarming, vivacious comedy…Barnes's irreverent and exuberant play, saturated in race and sexuality, is part romantic sitcom, part existential reflection…Before you know it, a deep, soulful riff is unwinding…It's a persistent, perceptive entertainer. The zest of these women is off the charts." —Washington Post.