The Inheritance, Part One - ePublication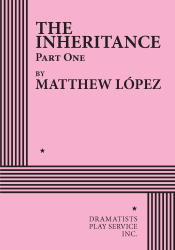 Winner of the 2020 Tony Award® for Best Play.
Intended to be performed side by side with
The Inheritance, Part Two
THE STORY:
Decades after the height of the AIDS epidemic, THE INHERITANCE tells the story of three generations of gay men in New York City attempting to forge a future for themselves amid a turbulent and changing America. Eric Glass is a political activist engaged to his writer boyfriend, Toby Darling. When two strangers enter their lives—an older man and a younger one—their futures suddenly become uncertain as they begin to chart divergent paths. Inspired by E.M. Forster's masterpiece
Howards End
, THE INHERITANCE is an epic examination of survival, healing, class divide, and what it means to call a place home.
Winner of the 2020 Drama Desk Award for Best Play.

Winner of the 2019 Olivier Award for Best Play.

"…the most important American play of the century…" —The Telegraph (UK). "…[an] openhearted American theatrical epic…Capaciously moving…blisteringly alive…" —The NewYork Times. "…pierces your emotional defences, raises any number of political issues and enfolds you in its narrative…it teems with life and incident…" —The Guardian (UK). "…a ravishing theatrical work that urges generations to connect and love…a head-spinning, heart-rending theatrical experience…it's impossible not to marvel at the incisively hilarious and deeply humane effort put forth by López…THE INHERITANCE is an emotional powerhouse…gripping from first scene to last…Make no mistake, it'll take a piece out of you." —Rolling Stone. "It is a show that never ceases to engage, impact, amuse, infuriate, enthrall...but, mostly, it also never ceases to touch you." —METRMAG. "…it feels like a universal call to live vibrantly and thoroughly and to consider what we owe to the generations that come before or after." —WBUR. "…its authoritative delivery offers new insights along with familiar emotional impact." —New York Stage Review