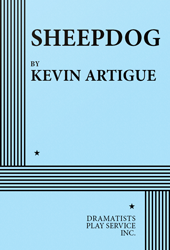 THE STORY: Amina and Ryan are both officers on the Cleveland police force. Amina is black, Ryan is white, and they are falling deeply and passionately in love. When an officer-involved shooting roils the department, small cracks in their relationship widen into a chasm of confusion and self-doubt. A mystery and a love story with high stakes and no easy answers, SHEEPDOG fearlessly examines police violence, interracial love, and class in the 21st century.
"…riveting and thought-provoking…a mesmerizing, sometimes edge-of-your-seat drama that morphs seamlessly from a romance origin story, to a morality play, then, finally, an intriguing detective mystery…" —BroadwayWorld.

"[SHEEPDOG] delves into fraught issues of race…[Artigue] looks through a humanized lens at the impact of a police shooting from a largely unexplored angle, the personal impacts on the shooter's life…while concentrating on the personal, Artigue doesn't lose sight of the larger issues behind his events." —OCRegister (CA).

"…a thought-provoking two-character drama…SHEEPDOG is both impressive and important as it thrusts the viewer into matters of his or her own conscience." —Los Angeles Times.

"A bang-up, must-see and intensely emotional [play]…85 heart-stopping minutes…all of the parties involved in police reform, from the mayor on down, should sit down and watch together." —Chicago Tribune.