Landladies - ePublication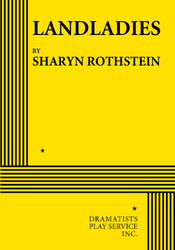 THE STORY: Christine and her four-year-old daughter have just moved in to a new apartment, complete with two bedrooms, one bath, and a gaping hole in the floor exposing the apartment below. As Christine juggles the demands of motherhood with her part-time job at a local taco joint, she receives regular visits from her landlady, Marti, who has opinions about Christine's life choices, including her involvement with a trouble-making ex-boyfriend. Two women aspiring for a better life, Christine and Marti develop a close but precarious friendship complicated by the inevitable power dynamic between them.
"…a moving depiction of crippling homelessness…[Rothstein] presents a wonderfully complicated female relationship anchoring a larger story of income inequality and abuse of power…a thought-provoking delight to watch."—Chicago Reader.

"…[a] compact, emotionally heated work that deals with the most primal human needs—for shelter, security, a sense of self-worth and love." —WTTW, PBS Chicago.

"…a stirring 90 minutes of drama…[LANDLADIES] is laced with moments of both comedy and heartbreak…a fascinating, empathetic play…" —Chicago Theatre Review.