Eureka Day - ePublication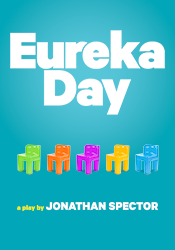 THE STORY: The Eureka Day School in Berkeley, California, is a bastion of progressive ideals: representation, gender identity, social justice. In weekly meetings Eureka Day's five board members develop and update policy to preserve this culture of inclusivity, reaching decisions only by consensus. But when a mumps outbreak threatens the Eureka community, facts become subjective and every solution divisive, leaving the school's leadership to confront the central question of our time: How do you build consensus when no one can agree on truth?
"Jonathan Spector's lively portrait of a debate over mandatory vaccinations is the perfect play for our age of disagreement. …characters who had seemed so easy to ridicule as stereotypes acquire a substance and specificity that inhibit both derision and facile categorization. It becomes possible to identify with each of these people…no matter what your own feelings about vaccination are. This means that EUREKA DAY…is not only one of the funniest plays to open this year, it is one of the saddest." —The New York Times.

"…Spector…extract[s] comic gold from the little tugs-of-war for control among the members of the committee. But…this comedy of manners yields to a serious probing of interpersonal responsibility and the limits of consideration. …Even as it stakes out a moral position on its subject, EUREKA DAY avoids the kind of lording dismissal that, in too much of our social-media lives, has become epidemic." —Time Out New York.

"EUREKA DAY [is] so brilliantly yoked to the current American moment—its flighty politics, its deadly folly—that it makes you want to jump out of your skin… The play's most astonishingly accurate moment comes when the board convenes a livestream… I'm still trying to figure out how hard is appropriate for a critic to laugh at the theatre; this night, I made myself hoarse." —The New Yorker.