I Am My Own Wife - ePublication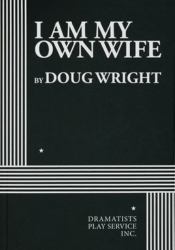 Winner of the 2004 Tony Award® for Best Play and winner of the Pulitzer Prize for Drama.

THE STORY: Based on a true story, and inspired by interviews conducted by the playwright over several years, I AM MY OWN WIFE tells the fascinating tale of Charlotte von Mahlsdorf, a real-life German transvestite who managed to survive both the Nazi onslaught and the repressive East German Communist regime.
Also winner of the 2004 Lortel Award for Outstanding Solo Show and 2004 Drama Desk Award for Outstanding Play.

"I AM MY OWN WIFE is the most stirring new work to appear on Broadway this fall…both moving and intellectually absorbing." —The New York Times.

"I AM MY OWN WIFE revels in a particular time and place, but it is more than a historical document. The play is a vivid portrait of a unique person whose ability to endure has been turned into a highly theatrical journey." —Associated Press.

"…saucy, sagacious, entirely fascinating solo play…" —The Village Voice.

"…riveting theatre…the structure of the play is original, challenging, and involving." —Backstage.

"A truly remarkable experience in the theatre, I AM MY OWN WIFE is a must-see…an experience that is intellectual, theatrical, funny, and poignant…the integrity of his writing provokes us to think, it teaches us a history we never knew we had, and without forgiveness and sentiment unravels the story of one life." —NY Theatre.