Electricidad - ePublication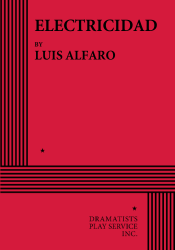 THE STORY: In the years following the murder of her father by her mother, Electricidad is committed to vengeance. To get it, she'll need her brother, Orestes, to return from Las Vegas and help her finish the job. Transporting Sophocles' Electra to the Los Angeles barrios, Luis Alfaro investigates violence, loss, and redemption through the lens of this age-old tragedy.
"[ELECTRICIDAD] is quick and it is clever…Alfaro entertains and he builds strong characters, delivering his message with humor and without patronization." —Culture Vulture.

"…Alfaro opens a window [into] the look, symbols, language, and attitudes of cholo/chola culture…Alfaro's lyrical, strongly rhythmic, yet simple language…liberally blends English and Spanish." —TheaterMania.