Oedipus El Rey - ePublication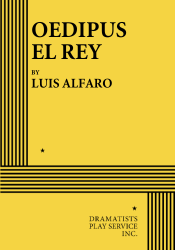 THE STORY: As he approaches the end of a lengthy prison sentence, Oedipus is ready to taste his long-awaited freedom. But liberation comes at a price, and life on the outside proves its own kind of prison ruled by a cruel and violent fate. Based on Sophocles' classic tale, OEDIPUS EL REY is an urgent examination of modern institutions, social barriers, and the power of storytelling for those bold enough to challenge the gods of our time.
"What Sophocles left offstage—the violence, the sex—[OEDIPUS EL REY] confidently stages…This gives [the play] swagger, oomph and economy, but it also makes for a salacious watch…[OEDIPUS EL REY] is a grim and dynamic reminder that…stories matter, old ones and new ones, true ones and fake ones." —The New York Times.

"…an adaptation that feels both urgently relevant and timeless…Alfaro illuminates the ancient themes of the Oedipus story in thrillingly modern ways, giving us a new appreciation for the myth." —TheaterMania.

"…OEDIPUS EL REY dazzles…[it] strikes to the bone of one of our more disturbing ancient legends and gives it new, breathtakingly vital life." — San Jose Mercury News.