The Line (Blank, Jensen) - ePublication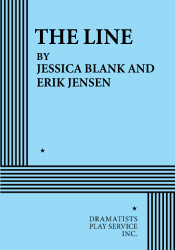 THE STORY: Crafted from firsthand interviews with New York City's frontline medical workers, THE LINE exposes the cracks in the government's response to the COVID-19 pandemic. Paramedics, doctors, nurses, and EMTs put their own health at risk as they work to save every patient, redefining what it means to protect and serve. Among them, an actor-turned-nurse handles his uncle's deteriorating health while trying to keep his patients afloat, and a doctor consoles a mourning patient's daughter while holding back his own grief and shock. Provocative, honest, and gut-wrenching, THE LINE documents the authentic experiences of medical first responders as they battle to save lives in a system built to serve the bottom line.
"Emotive and effective… Immediate & urgent, THE LINE bears the marks of rapid response." —The Guardian (UK).

"Harrowing." —The New York Times.

"These words sting with truth, but it's the human spectrum before us that turns sociological observation into gasping emotion." —Los Angeles Times.