Tambo & Bones - ePublication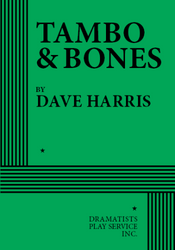 THE STORY: Tambo and Bones are two characters trapped in a minstrel show. It's mad hard to feel like a real person when you're trapped in a minstrel show. Their escape plan: get out, get bank, get even. A rags-to-riches hip-hop journey, this new comedy roasts America's racist past, wrestles America's racist present, and explodes America's post-racial future—where what's at stake, for those deemed less-than-human, is the fate of humanity itself.
"High-brow and brilliant!" —New York Magazine.

"TAMBO & BONES will make you second-guess everything you do in a theater… [Harris's play] gets the highest possible marks." —TheaterMania.

"…inventive and immersive, constantly shape-shifting to both unsettle and surprise us." —Indulge Magazine.