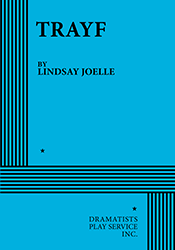 THE STORY: Zalmy lives a double life. By day, he drives a Chabad "Mitzvah Tank" through 1990s New York City with his best friend Shmuel. By night, he sneaks out of his orthodox community to roller skate and listen to rock and roll. But when a curious outsider offers him unfettered access to the secular world, is it worth jeopardizing everything he's ever known? This road trip bromance is a funny and heartwarming ode to the turbulence of youth, the universal suspicion that we don't quite fit in, and the faith and friends that see us through.
"A tidy, consistently smart story… Joelle's comedy is easygoing and confident, and her people have soul." —The Washingon Post.

"The thing about Lindsay Joelle's TRAYF…is that it has really excellent dialogue. In every sense of the word. The opening patter between two Chassidic teenage boys fizzes like a sketch comedy routine and the rhythm carries like a current through a lot of silliness and a lot of seriousness." —BroadwayWorld.

"The dynamics of this trio are observed by Joelle with a lively wit and genial wisdom... Although fraught with jealousy, these male relationships are suffused with a delicate tenderness." —Los Angeles Times.