Epiphany (Watkins) - ePublication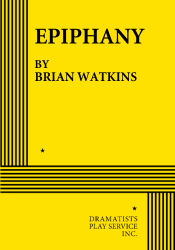 THE STORY: On a snowy January night, Morkan invites her friends and family to her home in upstate New York to celebrate a forgotten tradition: Epiphany. Except the guest of honor is late, and no one can quite remember what the holiday is meant to signify—Is it religious? Secular? Should there be dancing? As the evening wears on, the group becomes uneasy, wanting answers to questions both big and small: What is the best way to spend one's time on this earth? And why is this night so important to the hostess?
"Critic's Pick! …EPIPHANY astutely captures a wide swath of ideas without losing its grasp on the hilarious and heartbreaking experience of being a person in the world…a love letter to the indefinable and unnameable." —The New York Times.

"…puckish, thoughtful…[EPIPHANY] will engage and move you…" —New York Sun.

"[EPIPHANY is] a philosophical obstacle course, a poetic zone where language, gesture and intellect power the drama." —New York Observer.