Everything's Fine - ePublication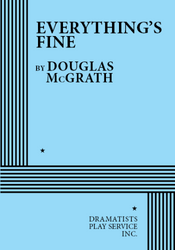 THE STORY: As Douglas McGrath remembers it, he had a pretty idyllic childhood. Growing up in Midland, Texas, in the 1970s, he rides his bike around town, hangs out with his best friend Eddie, and eats at Texas Burger every chance he gets. But once he starts eighth grade, his new teacher challenges his outlook on life and what he can expect from it. This moving, evocative memoir play explores how we grow up, how we understand each other, and how we offer grace to those who need it most.
"[McGrath's] account of an experience as a teenager unfurls with a can't-look-away quality…He is a good storyteller, and his droll tone is effective, if sometimes startling. You might be appalled but laughing, eager to hear what happened next."—The New York Times.

"…you'll be moved by the sheer kindness and genuine humility that permeate McGrath's writing." —New York Stage Review.