Rosencrantz and Guildenstern Are Dead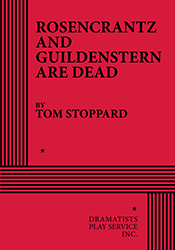 Winner of the 1968 Tony Award® for Best Play.
THE STORY:
Acclaimed as a modern dramatic masterpiece,
Rosencrantz & Guildenstern Are Dead
is the fabulously inventive tale of Hamlet as told from the worm's-eye view of the bewildered Rosencrantz and Guildenstern, two minor characters in Shakespeare's play. In Tom Stoppard's best-known work, this Shakespearean Laurel and Hardy finally get a chance to take the lead role, but do so in a world where echoes of
Waiting for Lefty
resound, where reality and illusion intermix, and where fate leads our two heroes to a tragic but inevitable end.
Also winner of the 1968 New York Drama Critics' Circle Award for Best Play.

"Very funny, very brilliant, very chilling; it has the dust of thought about it and the particles glitter excitingly in the theatrical air." —The New York Times.

"A stimulating, funny, imaginative comedy." —New York Daily News.