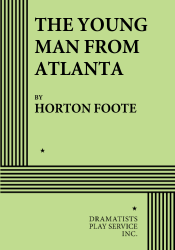 Full Length, Drama
5 men, 4 women
Total Cast: 9, Flexible Set
ISBN-13: 978-0-8222-1483-0


MIN. PERFORMANCE FEE: $130 per performance.
Winner of the 1995 Pulitzer Prize for Drama.

THE STORY: In her review of the play, Marian Burkhart explains the story: "In THE YOUNG MAN FROM ATLANTA, a kind of elected ignorance has skewed the past and narrowed the future, for the Kidders, Lily Dale and Will. The two are attempting to cope with the death of their only son, Bill, who, unable to swim, walked into a lake in Florida and drowned. Lily Dale takes refuge in religion. She persuades herself that Bill's death, in spite of its circumstances, was an accident. At the prompting of Randy, the 'Young Man from Atlanta,' who, though he never appears, is nonetheless the catalyst of the play's action, believes as well that her son lived in the faith she herself professes. Will is made of tougher stuff. He acknowledges his son's suicide and wants none of Lily Dale's pseudo-comfort. But he has his own illusions, a belief that a hard-working, competitive, optimistic all-American go-getter like himself can triumph by achieving 'the best and the biggest,' and that the best and the biggest house in Houston, into which he has sunk his savings, can paper over the bitterness of Bill's death. But he discovers that his job, the center of his life and his pride, is no longer his and that his kind of competitiveness cannot get him the bank loan he needs to start his own business. He discovers that his wife has not only communicated with the Young Man, as he has forbidden her to do, but has given Randy some $50,000 to 'tide him over.' This discovery only intensifies the pain of a previous realization that his son gave the Young Man money also. And he discovers the strength and endurance of his own body, which he has trusted as he has trusted his wife, has let him down, too, for he suffers a heart attack. This shattering of his life's facade compels him to realize that his life's core is an illusion. His single-minded pursuit of the American dream has left his wife not only childish but lonely, and it has denied him his son. Will chooses not to ask the Young Man why his son gave him the money. He does not want to know. Will and Lily Dale are reconciled. She will teach music. He will work at the lesser job his former boss offers him, and she will obey him, he hopes, even though she will cling to Randy, who for her, no matter what she now knows, is 'the sweet boy' who comforted her. 'Everything will be all right,' Will tells his wife. He will settle for what is merely 'all right' because the 'the best and the biggest' is as empty as the Young Man's lies."
"Here is a simple, immensely satisfying play, crafted with elegance, alive with feeling, holding a mirror up if not to nature, at least to the next best thing, our concept of nature. Not to be missed." —New York Post.

"The shimmering pleasures of THE YOUNG MAN FROM ATLANTA sneaks up on you…[the play] seduces us with rich accumulation of textures…Foote…ladles on character and period nuances with a density unparalleled in any living playwright." — Newsday (NY).

"THE YOUNG MAN FROM ATLANTA doesn't soothe or lift any hearts. It's tough, one of Mr. Foote's most serious and scathing works." —The New York Times.

"Horton Foote is an American original…[a] longtime chronicler of comings and going in fictional Harrison, Texas. Sometimes maddening, this is…a beautifully wrought and very moving play." —Variety.