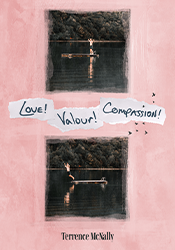 Full Length, Comedy/Drama
7 men
Total Cast: 7, Flexible Set
ISBN-13: 978-0-8222-1467-0


MIN. PERFORMANCE FEE: $130 per performance.
Winner of the 1995 Tony Award® for Best Play.

THE STORY: At a beautiful Dutchess County farmhouse, eight men hash out their passions, resentments, and fears over the course of three summer weekends. There's Perry and Arthur, a professional couple of long standing, whose relationship, while strained, always manages to settle into the loving routine of a couple grown too familiar with one another, but happily so. The owner of the summer house, Gregory, is an aging choreographer who dotes on his younger lover, Bobby, who is blind. Their relationship seems solid, until an irresistible dancer, Ramon, callously flaunts his sex appeal and manages to seduce Bobby on the first night in the house. Trying to keep Ramon to himself is John Jeckyll, a soured ex-patriot Brit with a taste for melodrama—and cruelty. John rankles everyone around him, speaking the unspeakable in haughty nonchalance while probing the weaknesses of the others. The painful truth about his ire eventually becomes clear when he has to take care of his terminally ill twin brother, James. Unlike John, James inspires nothing but affection in those around him, and here lies both the crux of John's complaint and the source of one of the play's most blistering and revealing of monologues about the related questions of gay identity and self-esteem. Finally, there is Buzz, a maniacal lover of the musical theater. Like James, Buzz suffers from AIDS, and he has resigned himself to a life of humorous anecdotes and comforting trivia. Strange things can happen, though, and against all odds, Buzz finds himself falling in love for what may be one last summer.
"…LOVE! VALOUR! COMPASSION! The new play…is a big, generous, haunted comedy that in its vaguely neo-Chekhovian way is both very funny and filled with intimations of time's passage, of loss and death…it's Mr. McNally's breadth of vision and his ambitious attempt to deal with characters, who are both privileged and threatened, in a way that ignores self-pity but doesn't ignore the larger world outside…Mr. McNally is in rare form." —The New York Times.

"…in this beautifully written work McNally…presents humbling evidence of what human love is and can be." —The New Yorker.

"…LOVE! VALOUR! COMPASSION! is one of [McNally's] very best. Unshowy and quiet, it rings louder with authenticity than his satiric farces do with laughter." —Village Voice.

"It is [McNally's] Chekhovian apotheosis, his most satisfying tapestry of emotional brights and darkness—so witty and tough and beautiful that it helps identify our terrible time as a golden age for gay theater. This also happens to be his most ambitiously unambiguous gay play, and it speaks difficult truths with acid grace and all those generous words exclaimed in his title." —Newsday (NY).