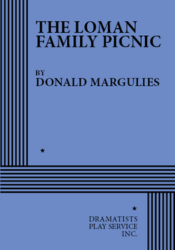 THE STORY: The setting is a new "luxury" high-rise apartment with Spanish décor in Coney Island, the home of a middle-class Jewish family struggling to put up a good front even though continually short of cash. The father, Herbie, who sells lighting fixtures, is chronically overworked and underpaid; his wife, Doris, tells herself (and whomever may be listening) that she loves her life—even though, as the play begins, she is shredding her wedding dress to make a Halloween costume; their older son, Stewie, eagerly awaits his bar mitzvah with an eye less on its religious aspects than on the potential loot to be gained in gifts; and the youngest son, Mitchell, is absorbed in writing a musical version of Death of a Salesman (entitled Willy!) for his class at school. While they all strive to present an appearance of contentment and closeness, the family is beset by underlying tensions which burst forth when Herbie seizes his son's bar mitzvah money and, after an unseemly confrontation with everyone about how the bills for the celebration should be paid, storms out of the apartment. Mitchell's pain prompts him to show us a good portion of his new musical about the picnic the Loman family should have. When—and if—Herbie returns home is dealt with ironically by the interpretation of four possible endings, played one after the other, and culminating in the most comically depressing of all—the actual outcome, in which Herbie and Doris sit in their usual oppressive silence while Herbie stabs moodily at his tuna salad diet plate.
Alternating between fantasy and reality, this acerbic black comedy offers a comic, but stinging, assessment of middle-class Jewish life in today's America.

"…bizarre and arresting family portrait…" —New York Post.

"It manages the difficult and useful trick of being sad even in its funniness, funny even in its sadness." —New York Magazine.

"…there is a genuine power and pain in the writing…" —BackStage.

"…bears the unmistakable imprint of a writer with a genuinely talented, distinctive voice." —TheaterWeek.