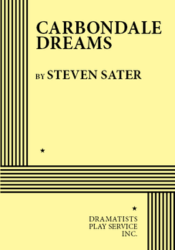 THE STORY: The setting is Carbondale, Illinois, where the Bader family has set down roots and prospered. The youngest (and still unmarried) son, David, a poet who now lives in New York, has come home for Thanksgiving. At first the reunion seems to be a typical Jewish family get-together, with much discussion of food and the problems of providing for growing children. But David's arrival also serves as a catalyst which provokes the explosive airing of deeper tensions and animosities, apparently ready to burst forth at the slightest provocation. The father, Arnie, regrets that his long hours at his store, making money for his family's benefit, cut him off from really knowing his children; and while his wife, Barone, professes to derive great joy from her offspring, it is soon evident that she has never really understood or appreciated them. As for the children, daughter Beth is a compulsive eater trapped in a loveless marriage with a self-indulgent husband, Barry, who berates her for weakness while denying nothing to himself; and son Bradley is a would-be rock musician who works for his father but dreams of the "big hit" that will rescue him from Carbondale. Meanwhile he and his alcoholic wife, Cindi, find solace in cocaine and compulsive over-spending. And while they all turn to David, the one who has "escaped" to a supposedly better life, to help them find a purpose in their own, it is apparent that he is as helpless to save them from themselves as they are to understand the tangled motives that have brought them to where—and what—they are.
Sometimes funny, sometimes poignant, this resourceful tragicomedy builds steadily in intensity as it probes into the lives of a middlewestern family for whom the American Dream has, almost unaccountably, become a nightmare. The play deftly explores the tensions between family togetherness and individual yearnings—and the damaging excesses which too easy affluence can lead to.

"This is theatre at its most enjoyable, where nothing jars, and everything conspires to make you think and think again, and feel." —New York Native.

"…a study in deterioration and entrapment that makes a strong statement…" —The New York Times.

"…a most satisfying and stimulating evening of theater." —The Forward.