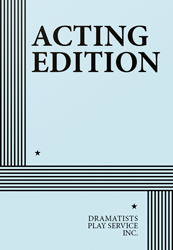 Full Length, Comedy/Drama
2 men, 2 women
Total Cast: 4, Flexible Set
ISBN-13: 978-0-8222-0696-5


MIN. PERFORMANCE FEE: $105 per performance.
THE STORY: Karla, a would-be novelist, and Nick, a soap opera actor, meet by chance in a park overlooking the Hudson River. Their encounter leads on, in short order, to a rendezvous at Karla's apartment, and the exciting possibility that true love might have come along at last for both of them. But Nick, cautious that real friendship and mutual respect might be dashed on the shoals of physical passion, begins to retreat—leaving Karla confused and hurt. She gets little comfort from her brittle, man-hungry friend, Lydia, who sees sex as an end in itself, and prefers the clandestine company of other women's husbands. Nor is Nick given much support by his easygoing roommate, Alan, a fellow actor who returns in disarray from a disastrous tour with a children's theatre company. Nick wants to work things out with Karla but can't seem to understand his own motives; Karla is ready to take up again with Nick but doesn't know how to cope with his (and her) sense of withdrawal. Matters are further complicated when Nick meets the tipsy Lydia in a bar and, not knowing of her connection with Karla, goes home with her; while Alan and Karla also find solace in each other when Nick fails to show up at her apartment but Alan does. Eventually, after a series of varied, cleverly constructed scenes, replete with sharp and continuously amusing dialogue, an accommodation of sorts is reached—with all four principals hardly the richer but certainly the wiser for their experiences.
A deft and brightly written account of the lives and loves of four young "swinging singles" who have come to New York City in search of fulfillment. Fast-moving, funny, yet frequently touching, the play is also sharply revealing as it probes beneath the seemingly laid-back attitudes of its characters.