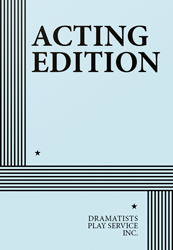 Full Length, Drama
3 men, 1 woman
Total Cast: 4, Flexible Set
ISBN-13: 978-0-8222-0164-9


MIN. PERFORMANCE FEE: $105 per performance.
THE STORY: The place is South Philadelphia, where Ed Burke ("Burkie" to his late wife) has lived for more than thirty years. A plumber by trade, Burkie is now dying of cancer and has become progressively more dependent on his unmarried son, Jon, who still lives at home and whose concern for his father's deteriorating health has led him to drinking more than he should. Summoning his sister, Jess, who is married and living in Arizona, Jon makes it clear that his principal concern is to make Burkie's final days as dignified and pleasant as possible and that Jess' last minute involvement cannot atone for the years of neglect that followed her departure. Jon rejects her offer to take Burkie to a clinic near her home in Arizona, but as the two siblings come to recognize their mutual love and concern for their father, old enmities are finally put to rest. And, in a final, deeply affecting scene, when Burkie at last escapes from pain into the solace of delusion, brother and sister are united by the knowledge of what they have lost and by their renewed awareness of the ties that still bind them together—and which will be their legacy for the future.
An eloquent, affecting drama of family love and loyalty.

"…beautifully written play about family love…an American classic." —Cincinnati Post.

"…warm, occasionally hilarious and emotionallywracking, evoking tears from the audience more than a few times." —Cincinnati Enquirer.

"Bruce Graham's play is engaging, sensitive and touching. It's a play about people we know…" —WGUC-FM.