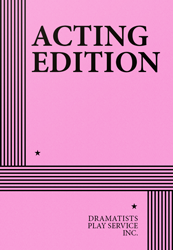 Full Length, Comedy/Drama
2 men, 2 women
Total Cast: 4, Interior
ISBN-13: 978-0-8222-1106-8


FEE: $105 per performance.
THE STORY: The action of the play is set in Susan's home in a New York suburb—Susan being a romantically-minded, divorced mother of three, and a very successful artist and designer of greeting cards. It is summer and Jake, the Dartmouth roommate of her son, Ted, has taken up temporary residence with Susan while doing house painting to earn money for his college expenses. Susan is drawn to the handsome, lively Jake, while he, in turn, is hopeful of finally establishing a meaningful relationship with a member of the opposite sex—although what he has in mind is someone of his own age. But, as the two begin to draw closer to each other, what adds a special quality to their relationship is that Susan is played by two actresses and Jake by two actors—offering two distinct perspectives on both characters and allowing the playwright to conceive a wide array of clever and inventive combinations and situations. Susan (and Susan Too) wants Jake (and Jake Too) to pose in the nude for a life study, and while there is initial reluctance, Jake (both of him) finally acquiesces, leading to the bittersweet ending of the play in which desire and convention are both touchingly accommodated before Susan and Jake return, as they know they must, to their separate worlds.
A comic (and creative) tour de force, in which two actresses and two actors, portray different aspects of the same two characters—a middle-aged, but still very attractive divorcee, and her son's college roommate, to whom she is romantically drawn, despite the difference in their ages. "This is the play Gurney's fans have been waiting for him to write, funny and inventive but also bravely expansive in scope." —Time Magazine. "…it is a skillfully constructed, highly entertaining work with the added bonus of providing wonderful roles for two actresses." —Drama-Logue. "Gurney has fashioned an intensely absorbing play about our sexually liberated society with its newfound mores…SWEET SUE is a sweet evening of theatre." —New England Entertainment Digest. "…witty writing and shrewd observations of haute-bourgeois manners and morals…" -Variety.