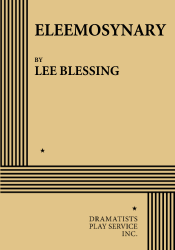 Full Length, Drama
3 women
Total Cast: 3, Flexible Set
ISBN-13: 978-0-8222-0354-4


MIN. PERFORMANCE FEE: $130 per performance.
THE STORY: Staged with utmost simplicity, using platforms and a few props, the play probes into the delicate relationship of three singular women: the grandmother, Dorothea, who has sought to assert her independence through strong-willed eccentricity; her brilliant daughter, Artie (Artemis), who has fled the stifling domination of her mother; and Artie's daughter, Echo, a child of exceptional intellect—and sensitivity—whom Artie has abandoned to an upbringing by Dorothea. As the play begins, Dorothea has suffered a stroke, and while Echo has reestablished contact with her mother, it is only through extended telephone conversations, during which real issues are skirted and their talk is mostly about the precocious Echo's single-minded domination of a national spelling contest. But, in the end, after Dorothea's death, both Artie and Echo come to accept their mutual need and summon the courage to try, at last, to build a life together—despite the risks and terrors that this holds for both of them after so many years of alienation and estrangement.
Sensitive and probing, this masterful play examines the subtle and often perilous relationship between three remarkable women: a young girl, her mother, and her grandmother.

"…a play and a production of a caliber rarely seen on the Philadelphia stage…the language is elegant, witty and carefully wrought." —Philadelphia City Paper.

"…an engrossing 95-minute entry—alternately funny and poignant…" —Variety.

"It is a wonderful job of playwriting." —Minneapolis Star and Tribune.

"…a funny, perceptive and eloquently written play…" —St. Paul Pioneer Press and Dispatch.