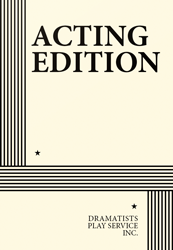 Full Length, Drama
4 men, 5 women
Total Cast: 9, Flexible Set
ISBN-13: 9780822204947

THE STORY: The place is a university resident theatre in the Southwest, where a brilliant but unstable former faculty member, Howard Bellman, has returned to direct a new play after a stay in a drug and alcohol rehabilitation center. The play, a first effort by a talented deaf writer named Marieta Yerby, purports to be about a woman who shot her alcoholic husband because he beat her—but the intuitive, probing director quickly senses that Marieta has withheld a key element in her story, an element which could change the work from a "little revenge piece" into a "big play about domestic violence." Despite her resistance, Bellman sets out to extract the truth from Marieta, a process in which his relentless, bullying tactics soon threaten both his own position and the future of the project itself. But, as the pressure mounts, the unique nature of the collaborative process is brilliantly underscored and, when Marieta eventually confesses that the real story is of her rape by her drunken father, the resulting emotional catharsis both chastens the participants and frees them to find new levels of artistic expression. In the end the truth becomes the play—or vice versa—and those involved, in delving ever more deeply and unsparingly into the meaning of their shared enterprise, must also, for better or worse, come to confront the truth about themselves as well. NOTE: This play is particularly suitable for production by those groups who have presented this author's Children of a Lesser God.
Employing an imaginative, Pirandelloesque play-within-a-play format, this compelling, suspenseful work brings together a group of volatile, creative people under conditions in which the dramatic elements of the play they are rehearsing are soon paralleled in the real lives of the participants—with emotionally shattering results. First presented in Los Angeles, the play went on to successful Off-Broadway production by the Manhattan Theatre Club. "…a superbly crafted theatre piece whose story unfolds with the skillful suspense of a good thriller." —The Hollywood Reporter. "…gripping…as the play develops it gathers momentum…" —NY Post. "…Medoff creates the kinds of climaxes that explode with drama." —Christian Science Monitor.