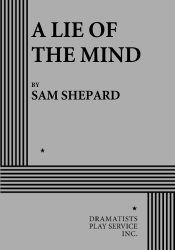 Full Length, Drama
4 men, 4 women
Total Cast: 8, Flexible Set
ISBN-13: 978-0-8222-0656-9


MIN. PERFORMANCE FEE: $105 per performance.
THE STORY: A LIE OF THE MIND involves two desperate families connected by the marriage of the son of one (Jake) to the daughter of the other (Beth). As the play begins Beth, brain-damaged from a savage beating that Jake has given her, is being tended by her parents, Baylor and Meg. Jake sends his brother, Frankie, to Montana to see if she is dead or alive, but Beth's father, mistaking Frankie for a poacher, shoots him in the leg and takes him prisoner. Thereafter the tensions and enmities that motivate the two families grow increasingly disturbing and dangerous. Frankie falls in love with Beth, but her brother, Mike, is bitterly determined that she no longer have anything to do with her husband or his loathsome family. Meanwhile the distraught, hysterical Jake, back home in California, is nursed by his possessive mother, Lorraine, and his sister, Sally, to whom Lorraine is openly hostile. Having gotten Jake back from Beth, Lorraine is determined to keep him with her forever, but Jake soon recovers and sets out to regain his wife. In the end, however, his will fails, and he allows Beth to stay with Frankie; Lorraine burns down her house and departs for Ireland with Sally; and Jake, bereft and alone, seeks communication with his dead father by gently dispersing his ashes into the moonlight—hoping to find order and meaning in the present by coming to terms with the haunting spectres of the past.
Winner of the New York Drama Critics Circle Award for Best Play, the Drama Desk Award for Outstanding Play, and the Outer Critics Circle Award for Outstanding Off-Broadway Play.

A landmark play which, in the words of the New York Times, "…is the unmistakable expression of a major writer nearing the height of his powers." Filled with enormous vitality, and humor, the play explores the destinies of two families, linked by marriage but set apart by jealousies and distrust, to probe into the human heart and the destructiveness which it can engender.

"A LIE OF THE MIND is a mesmerizing, emotionally raw play that once again pulls the view into Shepard's distinctive world of disturbed reality and hungry hearts." —Variety.

"Sam Shepard's A LIE OF THE MIND, his newest and most mature work to date, is a brilliant theatrical rendering, a play of enormous emotional power and intellectual strength." —The Hollywood Reporter.

"Sam Shepard is surely the only dramatist alive who could tell a story as sad and frightening as this one and make such a funny play of it without ever skimping on its emotional depth." —The New Yorker.

"…unforgettable." —Time Magazine.