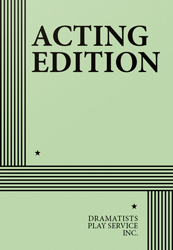 Full Length, Drama
6 men, 6 women
Total Cast: 12, Flexible Set
ISBN-13: 978-0-8222-0076-5

THE STORY: The action begins in the London flat of Lenora (Lemon), a rather frail, introspective young woman who tells us, with a chilling calm, why she rather admires the Nazis for their "refreshing" lack of hypocrisy, and who then, in a series of flashbacks, explains how she came to hold these views. We meet her abrasive American-born father, to whom profit and business success are foremost, and her retiring mother who wishes that love and kindness were more prevalent but is easily reconciled to their absence. But, most important, we meet a family friend, Danielle (known as Aunt Dan), an Oxford don obsessed with defending Henry Kissinger's policies in Vietnam. Beguiling Lemon with tales of her wild days as an Oxford student, and of the amoral escapades of her diverse and often dissolute friends (depicted in brief, disquieting vignettes), Aunt Dan becomes the central force in Lemon's life, eventually corrupting Lemon's moral views to the point where even Aunt Dan's death elicits no compassion. Instead Lemon, in a final, chilling monologue, methodically makes the case that bullies are our natural masters—and that reasonable man is, by nature, an armed killer who destroys others not only because it is necessary for survival but because it gives him pleasure.
Winner of the coveted Obie Award. A brilliant, provocative work which challenges both the mind and emotions of the audience. Successfully produced by the Royal Court Theatre, in London, and the Public Theatre, in New York, the play uses the innermost thoughts of a fragile, impressionable young English woman to illumine some of the most significant social and moral questions of our times. "Simply put, this is a play about how literate, civilized societies can drift en masse into beastliness and commit the most obscene acts of history…the most stimulating, not to mention demanding American play to emerge this year." —NY Times. "It is an assault. And an assault not on our senses, or even our minds, but on our beliefs." —NY Post. "With savage, sorrowing humor, he shows how decent, cultivated people rationalize corruption, terror and murder." —Newsweek. "…the most robust and tantalizing play that Wallace Shawn has written." —The New Yorker.