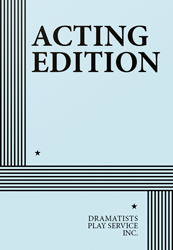 Full Length, Drama
2 men, 3 women
Total Cast: 5, Interior
ISBN-13: 978-0-8222-0248-6


FEE: $105 per performance.
THE STORY: The scene is a rundown shack in the Arizona desert, the home of Pewsey family. After an absence of a dozen years son Dowd Pewsey returns with his new wife, Penny, whom his family has never met. His arrival exacerbates the tensions and obsessions which beset the Pewsey clan: The mother, Andreas, is a slovenly slattern who has long harbored incestuous desires towards her son; the father, Red, is a foul-mouthed degenerate who has similar designs on their daughter, Scarlet, but quickly transfers these to his new daughter-in-law; while the daughter, Scarlet, is a bizarre twelve-year old who lusts after her brother and tries to get rid of her new rival, Penny, by stranding her in the desert. Heightened in style, the play swings from outrageous humor to chilling violence as it explores the twisted psyches of its unique characters and, in the end, exposes the shocking, gnawing secret which has brought them to their present state.
Achieving national notice in its production by Chicago's Steppenwolf Theatre Company, this stunning, explosive play was also presented at the Kennedy Center, in Washington, under the sponsorship of the American National Theatre. Outspoken and often violent in words and deeds, but brilliantly theatrical throughout, it examines the tragicomic conflicts and passions which beset a rural family in America's southwest—a family for which love has long since soured into hatred. "COYOTE UGLY is a visceral, muscular comedy in which characters shriek things in casual conversation that would give pause to an ax-murderer…an exuberant, flamboyant evening." —Washington Weekly. "…shocking and hilarious. It pulls no punches and moves ever forward in its assault on our sensibilities." —Washington Journal.