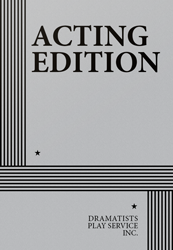 Full Length, Play for Teenagers
Fexible casting, 20-40 performers
Total Cast: 40, Open Stage With Backdrop
ISBN-13: 9780822201175

THE STORY: It is the summer of 1916, and the circus has come to the small town of Eddington, Tennessee. But the star of the show, an elephant named Big Mary ("the largest land animal in captivity"), is not happy: Her trainer, Maurice Weglellen, is about to be married to a local belle, Ella Mae Clayshulte, and to commit his charge to the questionable care of his assistant, Red Lavellette. Disrupting the wedding ceremony, and then trotting off after the newlyweds, Big Mary reacts angrily to Red's attempts to bring her to heel by giving him a fatal toss over her head—which presents the townspeople with the problem of how to deal with crime by an elephant. The nearsighted mayor decides to mete out justice with a gun (but succeeds only in wounding an innocent bystander); the sheriff nervously (and without effect) orders Big Mary to cease and desist; and only the local preacher, Reverend Stokes, appears to keep his head. Eventually everybody in town gets involved in the situation, and, despite the pleading of Badger McQueen, a young black orphan girl who wants desperately to join the circus (black people can't in 1916), "wiser" heads prevail, and it is ordained that Big Mary must hang. Which, with the help of Old Bud Fenwick's derrick, she does—to the enlightenment of all, for, as the Reverend Stokes ironically points out, "Children learn what they learn from their elders" —which, it is hoped, means from the bad examples as well as from the good.
Originally written for high-school-age performers, and first performed by forty actors from ten different high schools in the Great Valley (Pennsylvania) School District, this vividly theatrical play can be produced effectively with half that many actors and with the roles played by individuals either older or younger than the text suggests. Using the simplest of means to tell its antic story of the day "they hung the elephant in Eddington, Tennessee," the play also carries a strong and pertinent message about racial prejudice, the mindless power of an alarmed mob, and the unreasoning fears that ignorance and lack of compassion can generate.