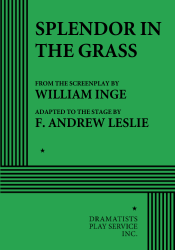 Full Length, Drama
10 men, 9 women
Total Cast: 19, Flexible Set
ISBN-13: 978-0-8222-1066-5


MIN. PERFORMANCE FEE: $105 per performance.
THE STORY: Good looking, a star athlete, and son of the richest man in town, Bud Stamper is the prize catch in his high-school class, and Deanie Loomis is the girl lucky enough to get him. But both Bud and Deanie are disturbed by the powerful feelings that have grown between them, which are turned into torture by the restraints of proper conduct. Mindful of the bad example of his own debauched sister, Bud wants to marry Deanie immediately and go to agricultural school—a hope that is destroyed by his father's ambitions to put Bud through Yale and into the family oil business. Bud and Deanie promise to wait, and Bud decides that it is better for them to see less of each other in the meantime, a turn of events that plunges the unstable Deanie into an emotional crack-up and then commitment to an institution. By the time she is released their world has turned over. The stock market crash has destroyed the Stamper empire and led to suicide for Bud's father; Bud has left Yale and married a young waitress from New Haven; and Deanie has become engaged to a young man she met in the hospital. The time has come for both to start life anew, but to do this means to come to terms with the past, and this Bud and Deanie do in a final, touching scene where old ties are gently broken, and each gains the sureness and strength to move on from disturbing memories to better hopes for what lies ahead.
An honest and affecting story of teenage love, which was produced and directed for the screen by Elia Kazan and featured Natalie Wood and Warren Beatty in the leading roles. Set in a small Midwestern city in the 1920s, the play tells of an ill-fated high school romance which could happen anywhere, at any time, and to any young people whose feelings toward each other have deepened into love.