The Diary of Anne Frank (Goodrich, Hackett)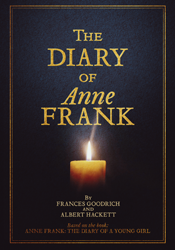 Full Length, Drama
5 men, 5 women
Total Cast: 10, Interior
ISBN-13: 978-0-8222-0307-0


MIN. PERFORMANCE FEE: $130 per performance.
Based up on the book Anne Frank: The Diary of a Young Girl

Recipient of The Tony Award® for Best Play and Winner of the Pulitzer Prize for Drama

Winner of the 1956 Pulitzer Prize, Tony Award, Critics' Circle Award, and virtually every other coveted prize of the theatre. Very few plays have moved the Broadway critics to write such glowing notices, receiving the unanimous acclaim of all the top New York reviewers.
"A lovely tender drama…Strange how the shining spirit of a young girl now dead can filter down through the years and inspire a group of theatrical professionals in a foreign land." —NY Times. "The precise quality of [THE DIARY OF ANNE FRANK] is the quality of glowing, ineradicable life—life in its warmth, its wonder, its spasms of anguish and its wild and flaring humor…Frances Goodrich and Albert Hackett have fashioned a wonderfully sensitive and theatrically craftsmanlike narrative out of the real-life legacy left us by a spirited and straightforward Jewish girl…as bright and shining as a banner." —NY Herald-Tribune. "…a moving document on the stage." —NY Post. "There is so much beauty, warm humor, gentle pity…in THE DIARY OF ANNE FRANK that it is difficult to imagine how this play could be contained in one set on one stage…this is a fine drama." —NY Daily News.