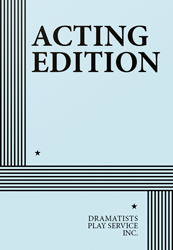 Full Length, Drama
6-10 men, 2-4 women
Total Cast: 8, Flexible Set
ISBN-13: 978-0-8222-0073-4

THE STORY: The time is now, the place New York City. Rich, a young writer who is beginning to find success, is breaking up with his longtime lover, Saul, a professional photographer. The split is particularly difficult for Saul, who still loves Rich deeply, but the mood is one of bantering and ironic humor as they divide their belongings. However Rich's idyll with his new lover is short-lived when he learns that he has AIDS and returns to the goodhearted Saul for sanctuary as he awaits its slow and awful progress. Thereafter the action is comprised of a mosaic of brilliantly conceived short scenes, some profoundly moving, some brightly humorous, which capture the pathos of Rich's relationship with friends and family; the cold impersonality of the doctors and nurses who care for him; and the widely diverse aspects of New York's gay community—for which Rich's plight is a chilling reminder of their own peril. In the end the effect of the play is emotionally overwhelming—an honest and unsparing examination of a deeply felt human relationship shattered by a mindless, destructive force which cannot be tempered or turned aside.
Winner of the Obie and Drama Desk Awards, this powerful, deeply affecting play was originally presented Off-Broadway by the Circle Repertory Company, and then transferred to Broadway where it was nominated for a Tony Award. Dealing with the AIDS crisis in the homosexual community, the play blends humor, poignance and brilliant theatricality as it details the bravery and compassion with which two young men face the shattering revelation that one of them is affected with the dreaded, and fatal, disease. "…the most impressive work presently being performed on or Off-Broadway…It is beautifully written and splendidly performed." —Variety. "AS IS is one of the few theatrical evenings in town that may, if anything, seem too brief." —NY Times. "A wonderful and frightening play…" —NY Post. "…this is the best new play of the season." —NY Magazine.