Out of Gas on Lovers Leap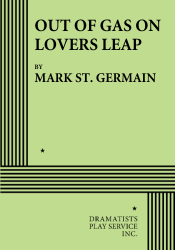 Full Length, Drama
1 man, 1 woman
Total Cast: 2, Exterior
ISBN-13: 978-0-8222-0870-9


MIN. PERFORMANCE FEE: $105 per performance.
THE STORY: It is the night of their high-school graduation and Myst and Grouper, two bright, well-to-do teenagers, have driven to the local lovers leap for a private celebration. Myst is seventeen, and the daughter of a fading rock star of dubious morals; Grouper is also seventeen, and the son of an ambitious, self-important U.S. Senator. Myst is determined to deprive Grouper of his virginity, but he wants to wait until they are married and settled into domesticity. As they drink beer, smoke pot and engage in sharply amusing, yet disheartening, interplay, it becomes increasingly evident that they are very lost young souls whose ideals have been sadly eroded by the shoddy, self-centered example of their elders. In the end they do make love, but it proves to be only a brief respite before their pasts encroach on the present and, inevitably, overwhelm it with terrible and heartrending results.
A provocative and theatrically exciting examination of the prospects facing today's youth, in a world where traditional values have declined and humanity seems bent on self-destruction.

"OUT OF GAS ON LOVERS LEAP is a perceptive, well-written work." —BackStage.

"…creates a tender bond between its wealthy misfits and the audience." —The New York Times.

"…theatrical imagination and flights of humor…" —The New Yorker.

"…presents a compelling argument that today's times are forcing today's kids to put new twists in the old rituals." —New York Post.