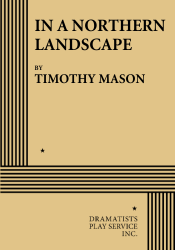 Full Length, Drama
7 men, 2 women
Total Cast: 9, Flexible Set
ISBN-13: 978-0-8222-0558-6


MIN. PERFORMANCE FEE: $105 per performance.
THE STORY: The play takes place in a Minnesota farming community in the 1920s, where Samuel Bredahl, a young college student, lives with his puritanical, Bible quoting mother; his dryly academic father, who is a professor of philosophy at the local college; and his sensitive, restless sister, Emma. The setting shows a burned-out farmhouse, once the Bredahl home, and now a chilling reminder of the cataclysmic events which, as told in flashbacks, underscore the action of the play. Bored and isolated, Samuel and Emma are drawn ever more closely together and apart from their stern parents and Samuel's boorish fellow students. When Emma's cherished rabbits are torn apart by the wild dogs which roam the countryside she turns to her brother for consolation, and it is her public declaration of the love which follows that leads to the crucial events which foreshadow the play—in which the outraged townspeople incinerate the Bredahl home, driving Samuel into the jaws of the wild dogs, and leaving his family to ponder their roles in these tragic happenings and the lifelong retribution which they must face as a consequence.
A haunting, emotionally charged memory play by one of the American theatre's most gifted writers, which explores an incestuous relationship between a brother and sister, and the dire consequences which it brings to both family and friends.

"With searing economy and an unerring sense of structure, Mason carefully builds the suspense in his horror story to a harrowing climax of retribution and murder." —The Hollywood Reporter.

"He makes his characters affectionate and appealing, ordinary and unusual at the same time." —Los Angeles Times.

"…a rich dramatic atmosphere pulsing with interesting characters." —Boston Globe.