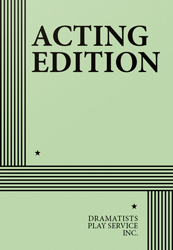 Full Length, Comedy/Drama
2 men, 2 women
Total Cast: 4, Interior
ISBN-13: 978-0-8222-0672-9


MIN. PERFORMANCE FEE: $105 per performance.
THE STORY: The scene is Kelly's apartment in a rundown section of Cleveland, flanked by universities and now infiltrated by middle-class hippies. Kelly, a laid-back young artist who is finding it difficult to paint, ekes out a meager living helping his friend Clint make custom furniture. Also on hand are Clint's lover, Prandy, a free-spirited "drop out" who now works as a waitress; and Prandy's vulnerable and somewhat "up-tight" younger sister, Maura, who is half-heartedly completing college. The central action of the play involves the complicated and sometimes stormy interaction of these four highly individualistic protagonists, each of whom, in his or her own way, has rejected the conventions of traditional middle-class life. The crisis of the play comes when Prandy announces that she is pregnant and Clint, who had previously planned to take off for parts unknown, refuses to change his plans despite her condition. Prandy's embittered decision to have an abortion drives a wedge between her and her more conventional sister, a rift which is widened still further when Maura embarks on an affair with the much older (and disturbingly haphazard) Kelly. In the end, when Clint returns from his wanderings, a reconciliation of sorts is achieved among the four—impelled by the deep-seated affection and concern that they feel for each other, but also tempered by the hurt and anger which have tested, and yet perhaps deepened, their fated interdependence.
A touching, funny yet deeply perceptive study of young people seeking to find their identities in the troubled 1970s, this remarkable first play introduced a new writer of exceptional originality and sensitivity to our theatre.

"…a riveting comedy about the relationship between two sisters and their boyfriends…" —New York Daily News.

"Together and separately, they face fear, loneliness and the terrors and joys of loving relationships." —Berkshire Courier.

"A funny, fast-paced play…" —Berkshire Eagle.

"…moments of genuinely moving theatre." —Springfield, Daily News.