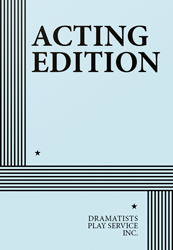 Full Length, Drama
4 men, 2 women
Total Cast: 6, Interior
ISBN-13: 978-0-8222-1624-7


FEE: $105 per performance.
THE STORY: The scene is a small mission church in a remote part of New Mexico, where a middle-aged college professor and his lovely young wife detour unexpectedly after the highway is closed because of a possible "accident" at a nearby nuclear facility. They are soon joined by Father Doherty, the benevolent but canny parish priest; a brilliant young Navajo doctor, Don Tabaha, who is about to leave his people (despite Father Doherty's opposition) to accept a prestigious research fellowship in California; Marion Clay, an art dealer and the widow of an important regional painter; and "Zappy" Zappala, her young paramour and a tournament class tennis player. Confined within the church as they await the hoped for "all clear" signal the six, after an initial reserve, begin to reveal their stories to each other—their problems and possibilities, their hopes and fears, the personal crises which have brought them not only to this place but to turning points in their lives. Sometimes brightly humorous, sometimes deeply affecting, sometimes explosively dramatic, the play becomes, in time, a parable of vocation and survival which, in exploring the lives of its characters, illuminates the human condition with a breadth of meaning and understanding which has application far beyond the context of the play itself.
A brilliant work by one of our theatre's major writers, first presented at Miami's New World Festival then Off-Broadway by the Circle Repertory Company, and then transferred to Broadway. Masterfully constructed, the play blends humor and compassionate insights as it explores an absorbing encounter between six people who are brought together by chance in a remote mission church in New Mexico. "…the best American play on Broadway this season…a tender and moving experience…" —NY Magazine. "It is realistic, yet it sings with a sweet unaffected poetry." —NY Post. "ANGELS FALL is a warm, funny touching, highly satisfying theatrical evening." —Village Voice.