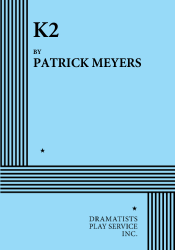 Full Length, Drama
2 men
Total Cast: 2, Exterior
ISBN-13: 978-0-8222-0606-4


MIN. PERFORMANCE FEE: $105 per performance.
THE STORY: The setting is an icy ledge high up on K2, the world's second highest mountain. Two climbers, Taylor and Harold, are stranded at 27,000 feet, and Harold has suffered a broken leg in their precipitous descent. They have also lost one of their ropes, and the remaining one is neither long or strong enough to serve as a sling to lower Harold to the next ledge. As Taylor climbs back up the mountain in an attempt to recover the other rope the two men keep up a running conversation which begins in a lighthearted vein but gradually shades into an absorbing discussion of the meaning and value of life. Taylor, an arch-conservative, womanizing assistant district attorney, sees personal gratification as the focus of existence, while Harold, a physicist, has found an almost mystic satisfaction in his selfless love for his wife and young son. When Taylor's attempts to rescue the second rope fail, and the desperation of their situation can no longer be denied, it is, finally, the bond between the two men which is put to the test as Harold, in a scene of shattering emotional impact, calmly but firmly orders Taylor to save himself—to salvage the one life which can be saved, and to live on for both of them. (NOTE: While the Broadway production of K2 employed a realistic set, the play can be produced with equal effectiveness using a simplified, abstract setting).
This thrilling, challenging play uses mountain climbing as a metaphor to explore a deeper theme: the recognition that human beings are free to choose whether they will live or die and do so calmly and objectively, even under the most severe conditions.

"What we feel is indeed that tingling sensation of traveling beyond the rim of experience—of holding on to life at its highest peak." —The New York Times.

"The entire action really takes place in the hearts, mind and pasts of two climbers…it is quite extraordinary—probably like nothing you have seen before." —New York Post.

"…I found it unexpectedly thrilling from start to finish." —The New Yorker.