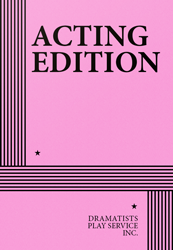 Full Length, Comedy/Drama
3 men, 4 women
Total Cast: 7, Interior/Exterior
ISBN-13: 9780822212171

THE STORY: The scene is a small town in Mississippi, where the family of Jamey Foster, a failed poet and would-be historian, who was kicked in the head by a cow while consorting with his mistress in a pasture, have gathered for his wake. The mourners, who include Jamey's estranged wife; her sister and brother and the brother's fey girlfriend; Jamey's upwardly mobile brother and his oppressively doting wife; and an eccentric family friend who raises pigs; all seem to agree on one point: None of them really liked the deceased very much. But on most other matters they are far apart, and as old enmities flare up, the play explodes with bizarre humor and zany revelations. In the end, a tenuous truce is reached as those assembled prepare to depart for the final rites—but it is abundantly clear that the lives on which Jamey had a baleful effect in his lifetime may well be changed for the better by his untimely demise.
Suffused with the warmth and offbeat humor that have become the hallmark of its brilliant young author, this richly comic study of a small-town Mississippi family drawn together by supposed grief was produced with great success by the Hartford Stage Company prior to its transfer to Broadway. "…sweetly combines the dottiness of eccentricity with the little ordinariness of life that seems at times immeasurably touching. Miss Henley knows that the underbelly of tragedy is often the comedy of the common place. And she uses this knowledge shrewdly." —NY Post. "…one of the most gifted American playwrights to emerge in recent seasons…" —NY Times.