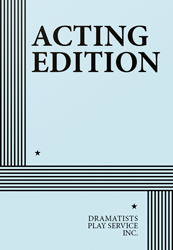 Full Length, Drama
5 men, 3 women
Total Cast: 8, Interior/Exterior
ISBN-13: 978-0-8222-1475-5

THE STORY: The scene is a beach shack on Cape Cod, during the summer of 1940, where August, a fledgling playwright, is rewriting the play intended for his Broadway debut. He is distracted by his infatuation for Kip, a handsome Canadian dancer and draft dodger, who is visiting with a wealthy and protective young girl named Clare, reputedly his sister. When Clare, who is not all she claims to be, goes off with a gangster friend, August takes advantage of her absence to lay suit to the sexually ambivalent Kip. But while he wins his case, there is as much pain as pleasure in their liaison, as Kip proves to be both terminally ill and unable to reciprocate August's obsessive passion. And, as a counter theme, August must also negotiate with the fawning, penny-pinching producers, whose crass commercialism he turns aside with a fierce defense of his artistic integrity. In the end we know that his play, like his sexual compulsion, will come to grief—but we are also aware that the artist, and the vision he must pursue, will remain undaunted and undiminished despite all the obstacles and frustrations that surely lie ahead.
A deeply felt, unstintingly honest study of love and loss, drawn from the playwright's own personal history. "…Williams' plays are carved in the cavern of his soul and in the caves of his own experience." —NY Post. "…the playwright is back writing about a protagonist he really knows—himself." —NY Times.