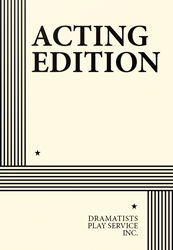 Full Length, Tragedy
4 men, 4 women
Total Cast: 8, Interior
ISBN-13: 978-0-8222-0048-2


FEE: $105 per performance.
THE STORY: Drawn from the immortal Greek drama by Euripides, Racine's play focuses on the unhappy fate of Andromache and the murderous passions that churn around her. Beloved by her captor, Pyrrhus, the son of Achilles, Andromache remains true to the memory of her slain husband, Hector. When the Greeks demand that she give her son over to them Pyrrhus offers Andromache a cynical choice: Marry him, or her son will be killed. In desperation, Andromache decides to wed Pyrrhus and then take her own life—which sets in motion a series of shocking events. The jealous Hermione, who is betrothed to Pyrrhus, persuades Orestes (who is enamored of her) to kill him, after which she commits suicide and the hapless Orestes loses his reason. Thus, in the end, all are betrayed by their frenzied emotions and drawn inexorably to a tragic fate which they, in their mortalfallibility, are powerless to avert.
One of the glories of the classic French theatre, Racine's great play is offered here in a rich and eloquent new English verse translation by one of America's leading poets.