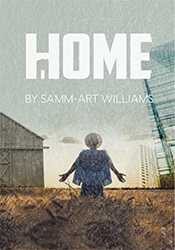 Full Length, Drama
1 man, 2 women
Total Cast: 3, Flexible Set
ISBN-13: 978-0-8222-0527-2


MIN. PERFORMANCE FEE: $105 per peformance.
THE STORY: The action begins on the small farm in South Carolina that Cephus Miles, an orphan, has inherited from his family. Young and strong, he is content to work the land—until his childhood sweetheart rejects him and goes off to college. Not believing in the Vietnam war, Cephus is imprisoned as a draft evader for refusing to serve. By the time he is released, Cephus has lost his land to the tax collector so he heads north to build a new life. With a good job and a slinky new girlfriend, he finds the big city exciting and rewarding. But soon after, the dream begins to fade—Cephus loses his job and becomes involved in drugs and prostitution. Pulling himself together, he returns to South Carolina and settles back on the land with his old sweetheart. Despite all, he has never lost his joyous goodwill, his indomitable spirit and the conviction that one day his quest for fulfillment will be rewarded.
Produced to great acclaim by the Negro Ensemble Company, this brilliantly inventive, lyrically expressive play deals joyfully with the coming of age of a young black man from rural South Carolina.

"…one of the happiest theatrical events of the season…HOME is a play from the heart, about the heartline of America—a play that all theatregoers should embrace." —The New York Times.

"Williams can write naturally enough to charm the birds off the trees, and this is a great and lasting gift." —New York Post.

"HOME is warm, funny and fully alive, and undisputedly where the heart is." —New York Daily News.