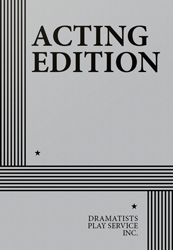 Full Length, Drama
9-13 men, 7-14 women, many roles can be doubled
Total Cast: 16, Flexible Set
ISBN-13: 978-0-8222-0221-9

THE STORY: The play begins outside the North Carolina asylum where Zelda Fitzgerald is receiving treatment for her mental disorder. She is visited by her husband, Scott, now reduced to hack writing in Hollywood and trying desperately to control his drinking. Their meeting is deeply disturbing for them both, and as Scott realizes that Zelda will never recover, the action shifts to a series of flashbacks which illuminate the causes of their sad plight. We see them in younger, happier, but inescapably destructive days—she in a tempestuous affair with a young French aviator; he matching wits with an acerbic Ernest Hemingway. And, throughout, the drinking, the wild extravagance, and the steady erosion of talent and potential. In the end we are back at the hospital, sure of what must come, but moved by the memory of what once was.
Produced on Broadway, this haunting, poetic memory play examines the tortured final day of Scott and Zelda Fitzgerald, and the wild escapades that preceded their inevitable decline into madness and early death. "…the writing is graceful, poetic and evocative…" -NY Daily News. "The playwright has not lost his feeling for words and skill in using them…" —Variety. "…moments of brilliant theatricality and some wonderfully written scenes…" —The Hollywood Reporter.