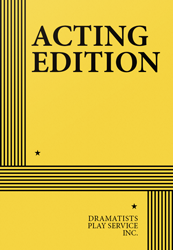 Full Length, Drama
Casting flexible, minimum of 5 women
Total Cast: 5, Open Stage
ISBN-13: 9780822212126

THE STORY: Covering a broad spectrum from Sappho to writers of the present day, the play points up not only the triumphs of women in literature, but also the discouragement, derision and disbelief to which they were too often subjected. Spanning twenty-six centuries, the play evokes the words and feelings of women who were frequently obliged to hide behind anonymity or male names in order to practice their art, and from whom fantastic strength of character and indomitability were required. That they succeeded so brilliantly in their efforts is not only a tribute to these talented women in particular but, in a more general sense, to the irrepressible spirit of the entire "other half" of humanity, whose voice would not be denied.
Widely toured by The Acting Company (John Houseman, director), and then presented in New York, this imaginative and engrossing "collage for voices" traces the emergence and growing influence of women in literature, through deftly interwoven excerpts from the words and works of twenty-four outstanding female writers. "…an admirable anthology, not only effective as theater, but also as an evening with a purpose." —NY Times. "It is hard to believe so much pure entertainment can be packed into a mere hour and a half." —Rochester, NY Democrat and Chronicle. "…honed to a needle-edge of sharpness with an economical intelligence…" —Troy, NY Times Record.