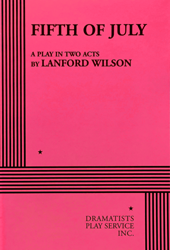 Full Length, Comedy/Drama
4 men, 4 women
Total Cast: 8, Interior/Exterior
ISBN-13: 978-0-8222-0399-5


MIN. PERFORMANCE FEE: $105 per performance.
THE STORY: The scene is a sprawling farmhouse in rural Missouri, which is home to Ken, a legless Vietnam veteran, and his lover, Jed, a horticulturist. They are visited by Ken's sister, June, and her teenage daughter, and by Gwen and John—the former a hard-drinking, pill-popping heiress who aspires to be a rock star, the latter her wary-eyed husband and manager. All are old friends from college days, and former activists who agitated for what they hoped would be a better world. The action centers on Gwen's offer to buy the farm, which she plans to convert into a recording center, and on Ken's Aunt Sally, who has come to the family homestead to scatter the ashes of her late husband. Their talk, as the play progresses, is sharp and funny and, in the final essence, deeply revealing of lost hopes and dreams and of the bitterness that must be fought back if one is to perceive the good that life can offer.
This brilliant, enthralling play has been hailed as a major work by one of our theatre's most important and celebrated writers. Alternately funny and moving, it deals with a group of former student activists and the changes that have been wrought in their lives and attitudes in the years since leaving college.

"This is one of the most incredibly well-written, beautifully acted, profound and moving and often hilarious plays it has ever been my privilege to see in the American theater." —New York Daily News.

"Few contemporary playwrights are as craftsmanlike and humane, or as wise as Lanford Wilson. There aren't many plays to see that are as interesting and absorbing and feeling and funny as this." —Cue Magazine.

"The characters are mostly flamboyant, their dialogue crackles with laugh-inducing lines and we find ourselves dazzled by Wilson's virtuoso writing." —The Hollywood Reporter.