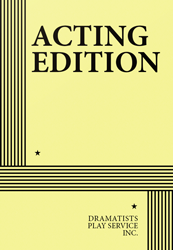 Full Length, Comedy
5 women
Total Cast: 5, Interior
ISBN-13: 978-0-8222-0623-1

THE STORY: The setting is the lavish reception room of the new multi-million-dollar Alamo Theatre, a regional theatre complex that has grown from a small operation in a converted church to one of the glories of Texas culture. As the action begins we learn that the leadership of Dede Cooper, founder and artistic director of the Alamo, is being challenged, and the Chairman of the Board, a lady of great wealth and lust for power, is scheming to replace Dede with a fading Hollywood star. As the hour of the decisive board meeting nears, Dede and her supporters maneuver to outflank the opposition, and as the crisis point is reached the verbal battles and shocking revelations build to fever pitch. In the end no one is left unscathed; and while the insurrection is put down, the scars of battle will, it is clear, be long in healing.
Presented on Broadway, this biting, explosive and very funny play examines the behind-the-scenes intrigues and power struggles that beset a famous regional theatre and its long-time artistic director. "For alley cat savagery, it would be hard to top the verbal battle royal that constitutes LADIES AT THE ALAMO…" —Variety. "Mr. Zindel is a very crafty writer; he has written an old-fashioned, well-made play, and he has made it very well indeed, with stingingly funny repartee and smashing exits, with suspense and reversals galore." —Village Voice. "…the bitchiest, most hilarious female free-for-all since The Women…" —NY Daily News.