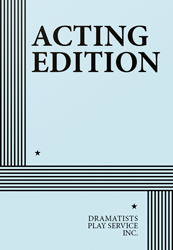 Full Length, Comedy/Drama
4 men, 3 women
Total Cast: 7, Exterior
ISBN-13: 978-0-8222-0435-0

THE STORY: The play takes place in the backyard of adjoining houses in South Philadelphia: one house occupied by Fran Geminiani, a laborer, and his son, Francis, a Harvard student; the other by a boisterous, earthy divorcee named Bunny and her fat, asthmatic son, Herschel. It is the eve of Francis' twenty-first birthday, and suddenly he is paid a surprise visit by two friends from college, a brother and sister named Hastings, who set up a tent in the backyard. The friends, Randy and Judith, are wealthy, attractive and from an elevated social background that contrasts painfully with Francis' own humble circumstances. In addition, while Judith is in love with Francis, he is infatuated with Randy (or thinks he is) and it is from this unsettling discovery that the plot proceeds—a series of lively, funny, touching and revealing incidents that occur in fast-moving, antic succession until the final, joyous moments of the play.
Winner of the Obie Award. Bursting with vitality and creative imagination, this funny, perceptive and timely play enjoyed major critical and popular success in its presentation (first off and then on Broadway) by New York's famed Circle Repertory Company. "This is a play that comes alive in performance…Mr. Innaurato is a playwright with his own extraordinary voice and the imaginative talent of a conjuror." —NY Times. "Innaurato is an original, of incomparable imagination…" —The New Yorker. "…a rambunctious, hilarious, touching, quite beautiful play." —NY Magazine.